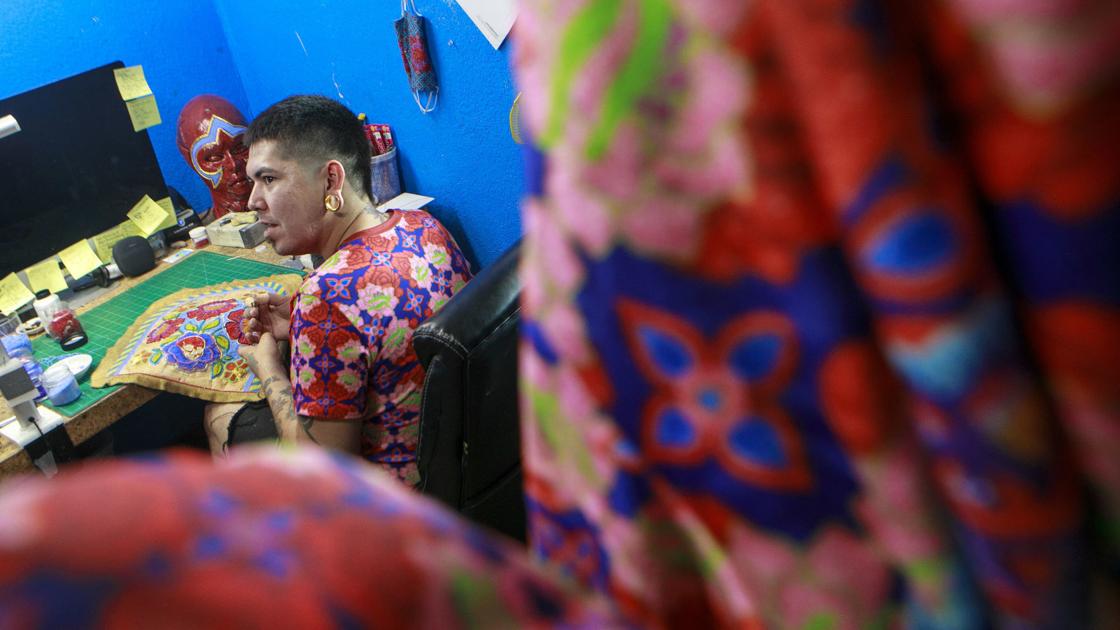 Modern twist: EJ Not Afraid unravels 'dead' beading techniques of the Crow tribe | State & Regional
By dismantling old beadwork, EJ Not Afraid taught himself how to bead. He unraveled and stitched back together beadwork on a pair of his great-grandmother's leggings.
"I wanted to see the technique, and I was able to replicate it," said Not Afraid, who grew up in Lodge Grass on the Crow Indian Reservation. Though his great-grandmother, Joy Yellowtail, died before he was born, Not Afraid found inspiration from her beading and research materials left at the house.
Yet, when Not Afraid wanted to learn more about beading, he didn't have much support. "I asked my aunts, my grandmothers … They didn't bead. Beading wasn't passed on."
Not Afraid, who still resides on his family's property in Lodge Grass, was not swayed, and he's now been working on his craft for nearly 20 years. Beading became a gateway to learn about the Apsáalooke culture, language and art, something he wasn't connected to growing up.
Mixing traditional Apsáalooke designs with a contemporary spin, Not Afraid is racking up praise and awareness for his unique style, a merging of edgy punk rock vibes with the triangular sharp lines of historic Crow beadwork, punched up with spikes, elk teeth, and psychedelic colors.
"Native fashion is starting to become more seen," he said. "It's not a trend because trends die."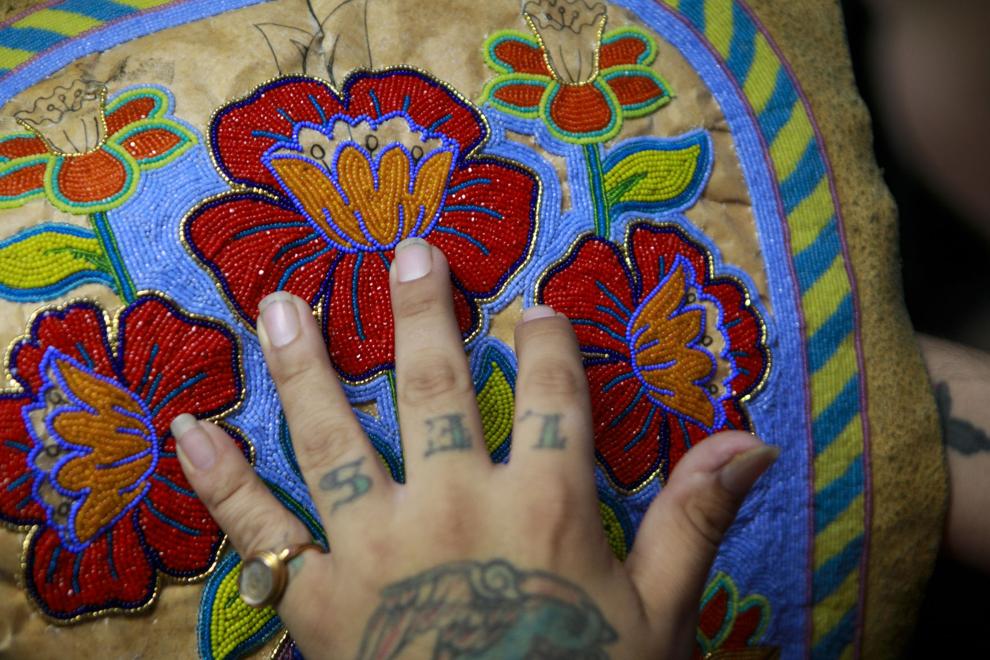 In January, Not Afraid and others of the Apsáalooke tribe were featured in Vogue Magazine's "United States of Fashion" spread. Then in June, he received a request to send In Style Magazine a collection of scarves featuring his beadwork designs. Interior Secretary Deb Haaland, the first Native American cabinet member U.S. history, was photographed in one of these scarves, featured in the August issue. Last year, he was one of five Indigenous artists selected from around the United States to design a bank card for Wells Fargo.
"Everything has happened so quickly," said Not Afraid, who launched his first clothing line on July 21. A limited run of dresses, shirts, hoodies and other items were offered for a one-week period. It's the first step in what he hopes will lessen his reliance on commissioned work.
Not Afraid has long wanted to get into fashion, and taught himself how to use Photoshop and created his own patterns from photographs he took of his beaded designs. "It's more about the art than the actual clothing," he said.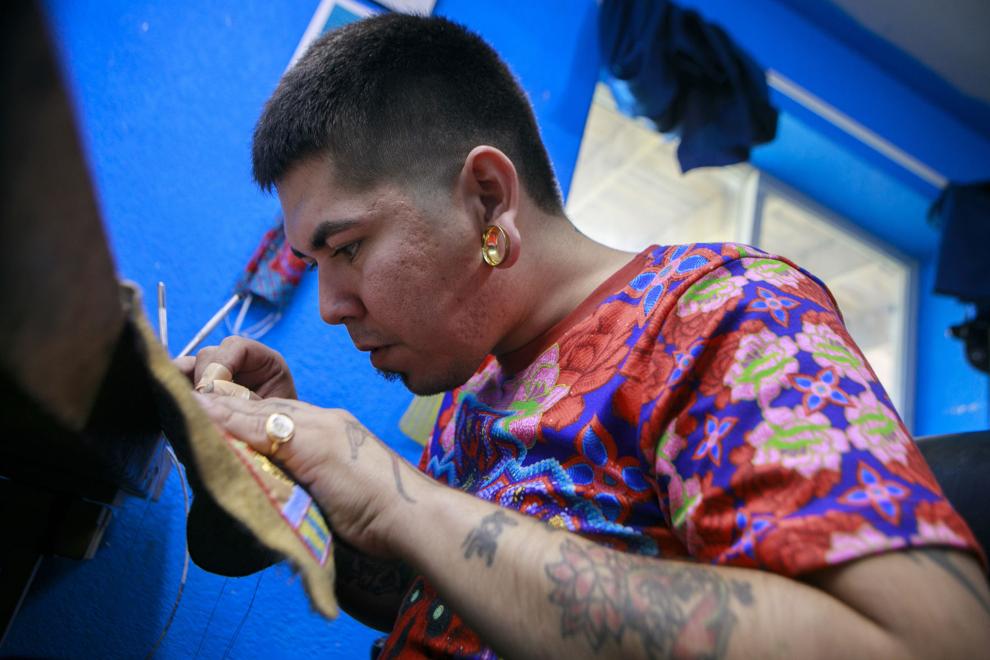 Tracing history
Not Afraid works in tight quarters. In a basement room at a small desk, with magazine articles, research books, and beaded pieces in progress strewn about, he's surrounded himself with jars of more than 200 different colored beads.
About 95% of the beads he's amassed were made between 1920 and 1960. Others are antique, dating back to 1800s, including Venetian beads crafted in Italy. Many of the colors are no longer being made. He scours eBay, Etsy, auction sites, pawn shops, antique stores and even doll shops for beads.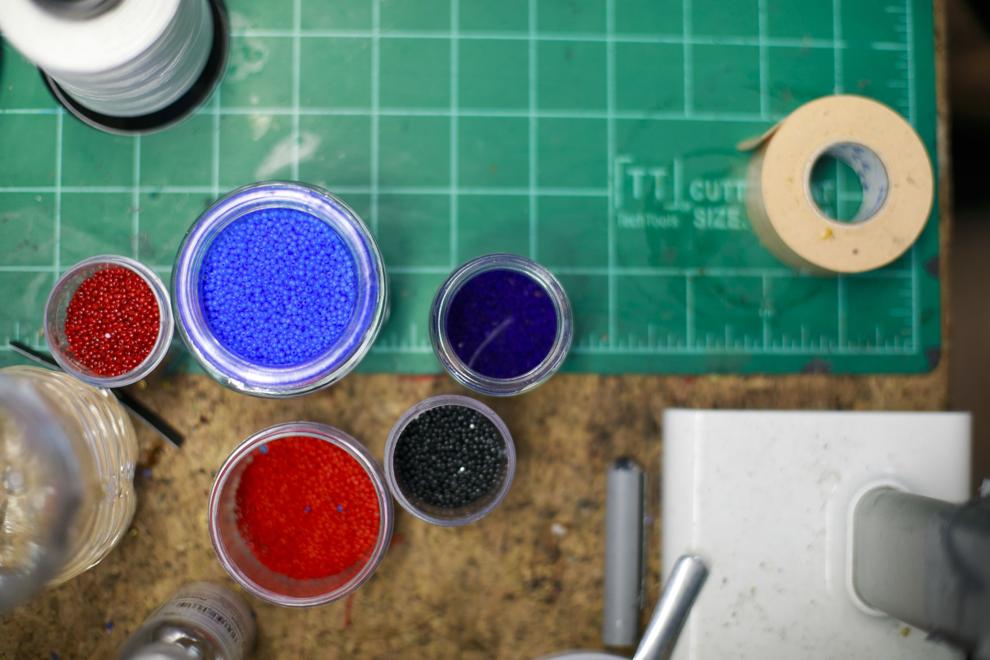 "I search everywhere, call places, reach out to them and ask," he said. Vintage beads, he explained, are often are strung onto hanks – a swooping loop of beads strung onto thread, then bunched into a master hank of several loops. Factories in Italy employed mostly women to string beads, one giveaway that they're from that era.
Glass beads from Europe made their way into Native American culture via trade routes. Colonists moving into the Western plains in the 1800s brought with them trade goods, including glass beads.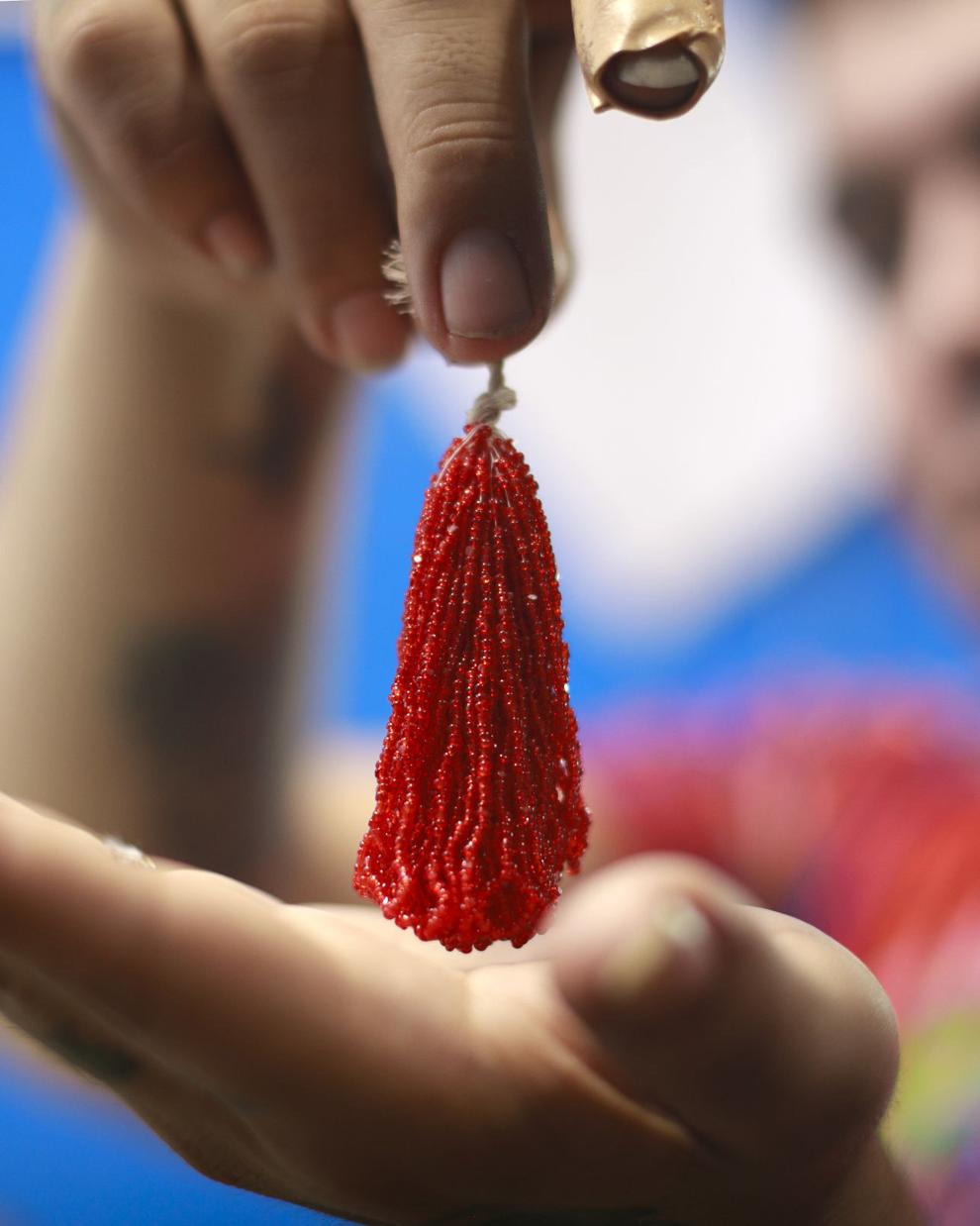 Such beads became hugely popular — being small and easy to trade in a variety of colors — and were stitched into regalia and outfits for Native American parades, ceremonies and adornment. Glass and seed beads replaced most Native-made stone, copper, bone, and shell beads. Quill work also became nearly nonexistent, in part because of the removal of Native people from their traditional land, practices, and access to porcupines.
Beads came in a spectrum of colors. Some of the formulas included using gold, which became some of the more coveted beads, while others used toxins. Not Afraid said he's careful not to use beads that contain arsenic, often added as a firing agent in older glass-making techniques, which resulted in beads containing high levels of arsenic and lead.
"They used to experiment with making the beads, and the first batches they used lead or arsenic to make certain colors," Not Afraid said. He suspects that Native Americans were the target of such beads. "Once they found out as the bead breaks and deteriorates over years, you'll poison yourself, they strung them up on hanks and sent them to the Natives."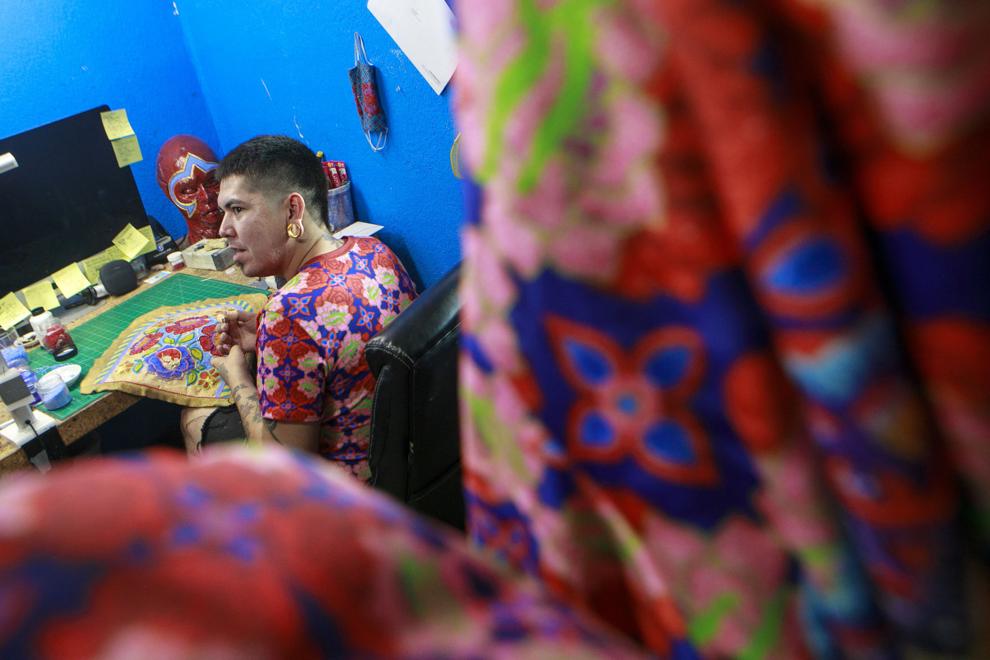 Using historical beads to create contemporary work, Not Afraid participated in "Apsáalooke Women and Warriors," exhibited in 2020 and 2021 at the Field Museum in Chicago. It was the largest exhibit of contemporary and historic Crow works in museum history curated by scholar Nina Sanders, a member of the tribe.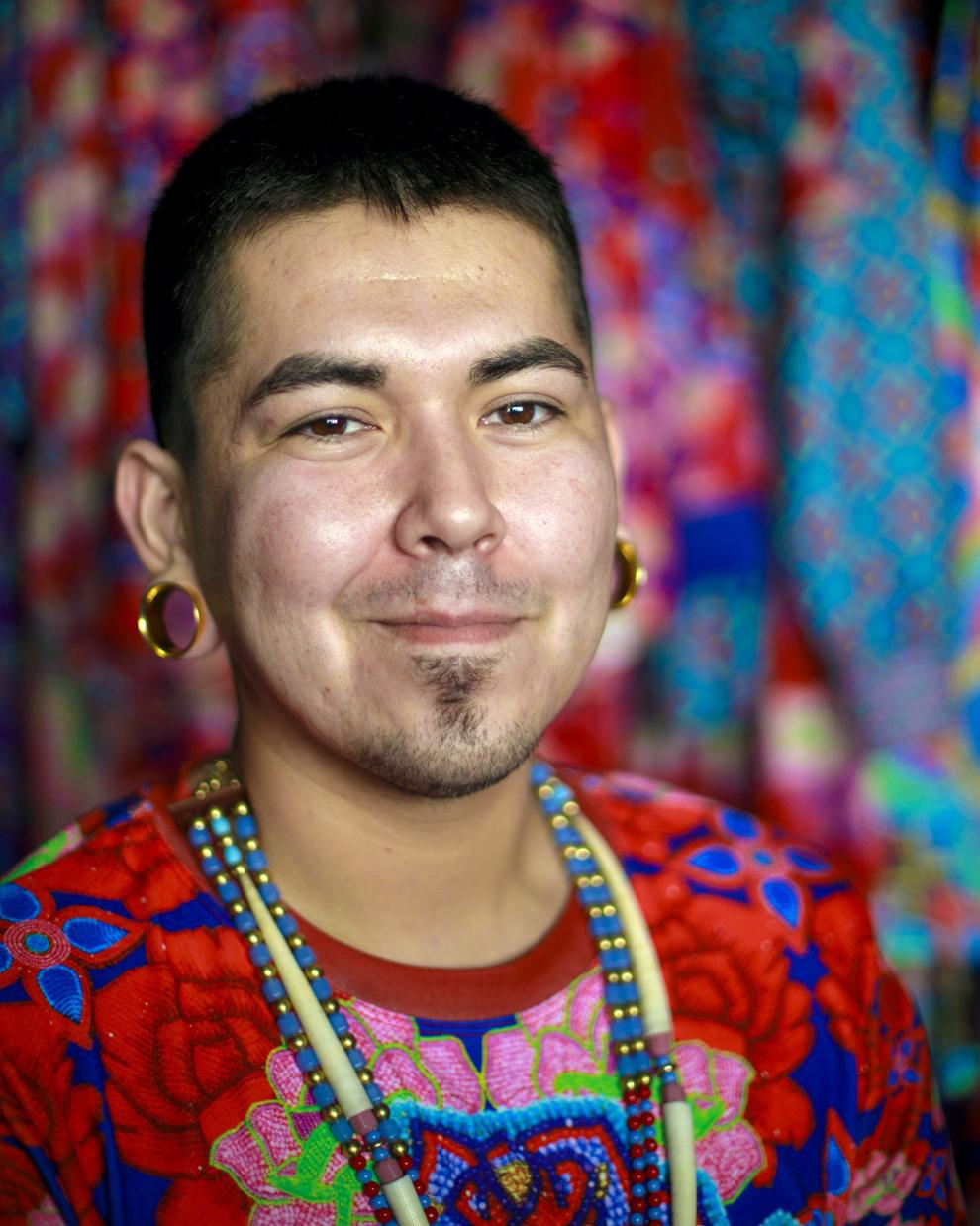 While at the Field Museum, Not Afraid and other tribal members were granted access to the artifacts in the archives. Many were collected in the 1920s, when museums and other institutions were collecting Indigenous artwork from tribes – many starving, unable to hunt and suffering under the colonial expansion and forced eradication of their culture, language, and ways of life.
"It was pretty bad for us here in the 1920s," said Not Afraid. "The Field sent people to the reservation to start collecting more items, because they thought we were going to be completely wiped out."
Among the items collected was unfinished beadwork. "The Smithsonian already got the good beadwork, the cradleboards, the bags," Not Afraid explained. "By the time the Field got there, people were at their wits end, and a lot of the beadwork is half finished. They gave up some of their most sacred medicine objects just to provide for their family."
Included in those items is the country's largest collection of sacred war shields, many which were on display during "Women and Warriors," where Not Afraid and many of the tribe's artists exhibited contemporary works alongside ancient and sacred objects.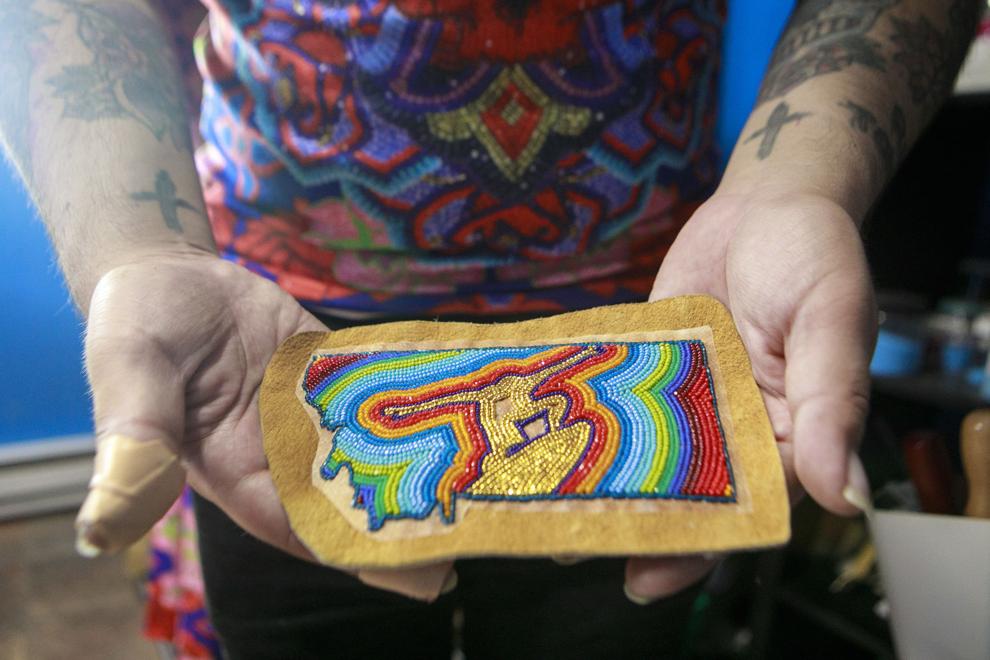 Looking at the unfinished Crow beadwork, Not afraid noticed four distinct techniques that are no longer being practiced. "They are dead techniques," he said. "So, I took video and photos, and when I got back home that next day I replicated them all."
This included a style of buckskin choker rolled up to look like two ropes, made with only one needle. "It almost looks like a rattle snake tail," he said. Another technique he discovered created a scalloped edging for beaded pieces and clothing. He figured out this style and posted a tutorial on YouTube.
"I've always shared the knowledge that I've gotten over the years," said Not Afraid, who attributes much of his social media following to being inclusive.
"There are people out there that want to do this and are going through the same things I did, not being taken seriously."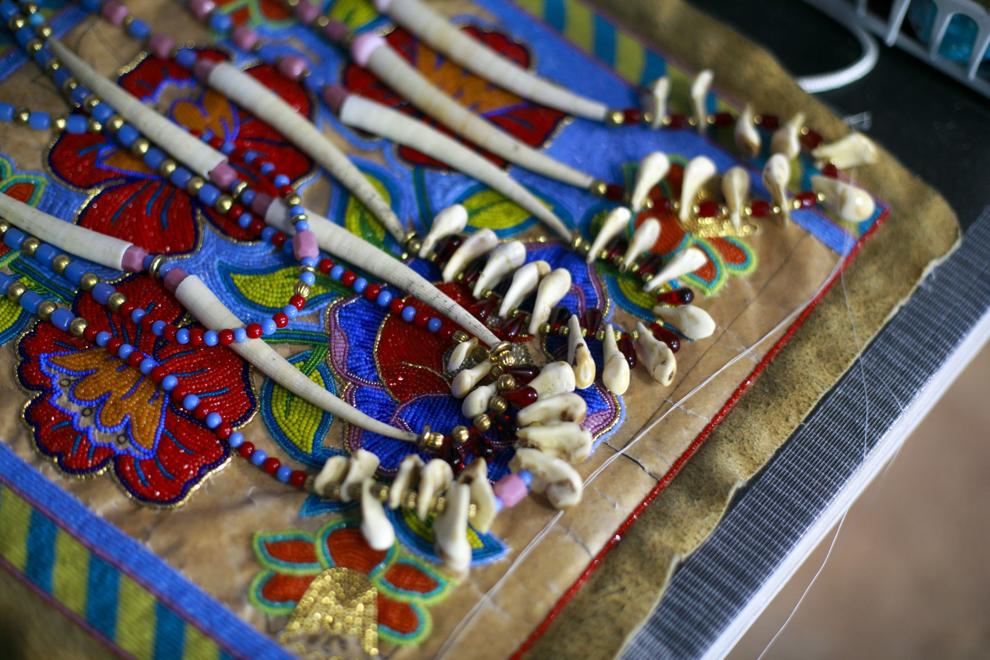 Headed to market
Not Afraid now plans to focus on larger beaded works. He's preparing to attend his fifth Santa Fe Indian Market, one of the most prestigious and competitive Native American artwork fairs in the country.
"You have to be at the top of your game to be in there," he said. "Within that weekend alone, it is in the millions of dollars of art being sold. I have collectors that will wait at my booth, before I even get there."
Not Afraid first applied to the event in 2016 and was selected. He's returned each year, and each year his works sell out.
The sale opens to the public Aug. 21 at 9 a.m., with a pre-sale event to club members and private collectors earlier that day. Not Afraid said he usually arrives at this booth by 5:30 a.m. and there are already people waiting.
This year, Not Afraid was also asked to jury beadwork entries submitted from the more than 220 federally recognized tribes in the U.S. and First Nation tribes of Canada.
"I was like, 'Who me? Do you have the right person?' I was in shock for a bit."
In preparation for market, he has been working on his largest beaded piece to date, a cradleboard that he's been constructing for the better part of two years. Six panels in total will adorn the top, bottom, and sides, made with vintage beads and 150 elk ivory teeth stitched into buckskin and then stretched over the board.
Such ivory teeth are a precious commodity, as an elk only has two, situated in the molar area. They have long been used as adornment and a symbols of honor and hunting prowess in Apsáalooke culture, as each set of ivories represents a kill. In contemporary works, elk teeth are often recreated with a mold and used in various fashions, presenting a signature style known to the Crow tribe.
Not Afraid prefers to use authentic materials and said he obtains elk ivories from eBay or directly from taxidermists. The design of the cradleboard is based upon Crow artifacts he studied in the archives of the Field Museum. He took videos of the objects, recording where the stitches are located, how the baby would be placed into the board, and how the lining was assembled.
The intention is that the piece could be used, not just hung on a wall. "I make things for actual use," said Not Afraid.
Stitching history
When Not Afraid first took up beading, he was teased by his peers and told by schoolmates and adults that beading was not something he should spend time learning.
"They told me I wouldn't get the hang of it. That it takes too long. It's a woman's craft … Even after I learned how to bead, there would be people who would tell me beading is for women. 'You are a man. You should be out hunting.'"
Not Afraid hid the fact that he beaded until he was a senior in high school, "because it was cool by then," he said. Around that same time, he came out as gay.
"I didn't want to wait. I didn't want to live my life a lie and pretend to be straight. And, coming from a family that is really conservative … they respect me, but they kept their distance because it's something they don't believe in."
Among the gifts beading has given, Not Afraid said it truly saved his life. In 2012, he left Lodge Grass and checked himself into treatment in Casper, Wyo. for opioid addiction following an overdose. He then moved to Arizona, where he stayed sober and lived for nine years before returning to Montana.
"When I left here, to be honest, I really didn't care about my culture. When I got down there and being away from people from home, I got lonesome, and then that's when I started beading full time."
The research helped him stay focused and invested. Though he didn't see it going anywhere, he began selling earrings for $30 each. Now, Not Afraid can sell such jewelry for 17 times that.
"If am making a living off beading and doing it out in my house in the country, anyone else can do it," said Not Afraid. "There are so many opportunities out there for Native artists."
Photos: E.J. Not Afraid creates intricate beadwork, clothing
E.J. Not Afraid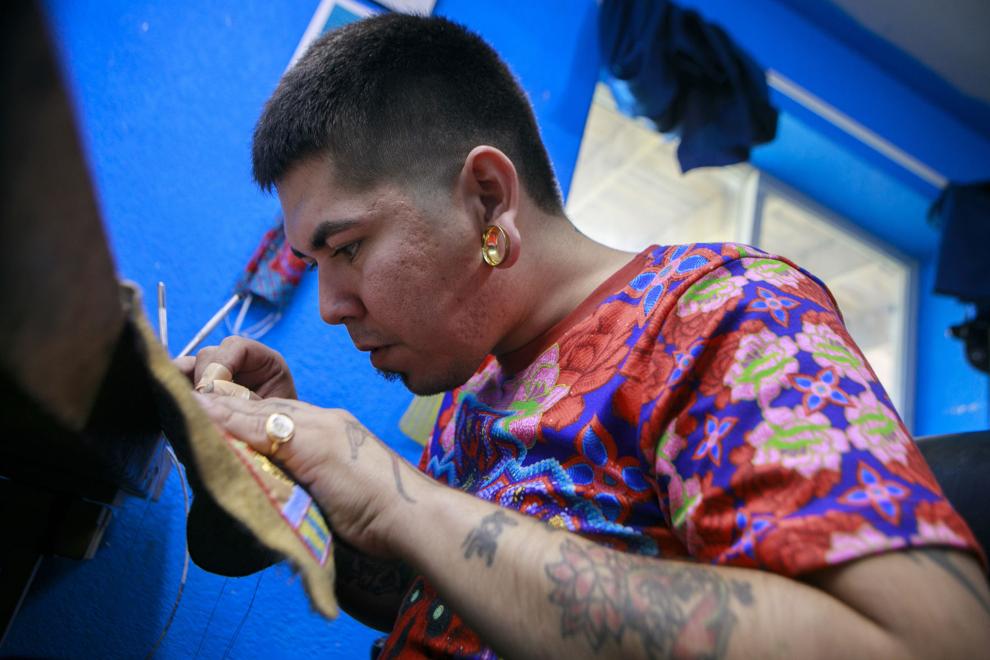 E.J. Not Afraid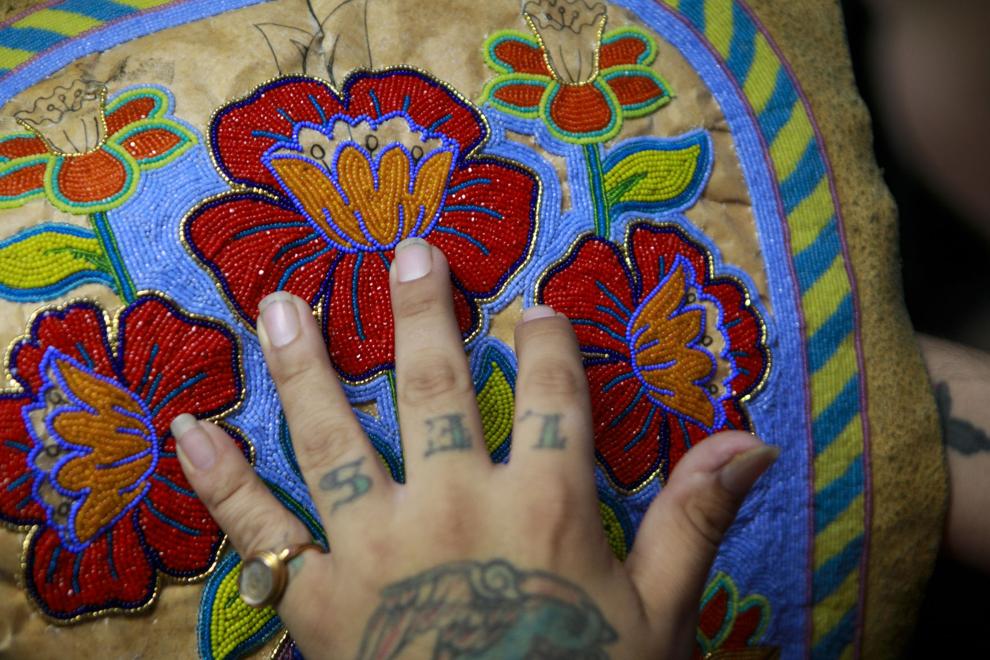 E.J. Not Afraid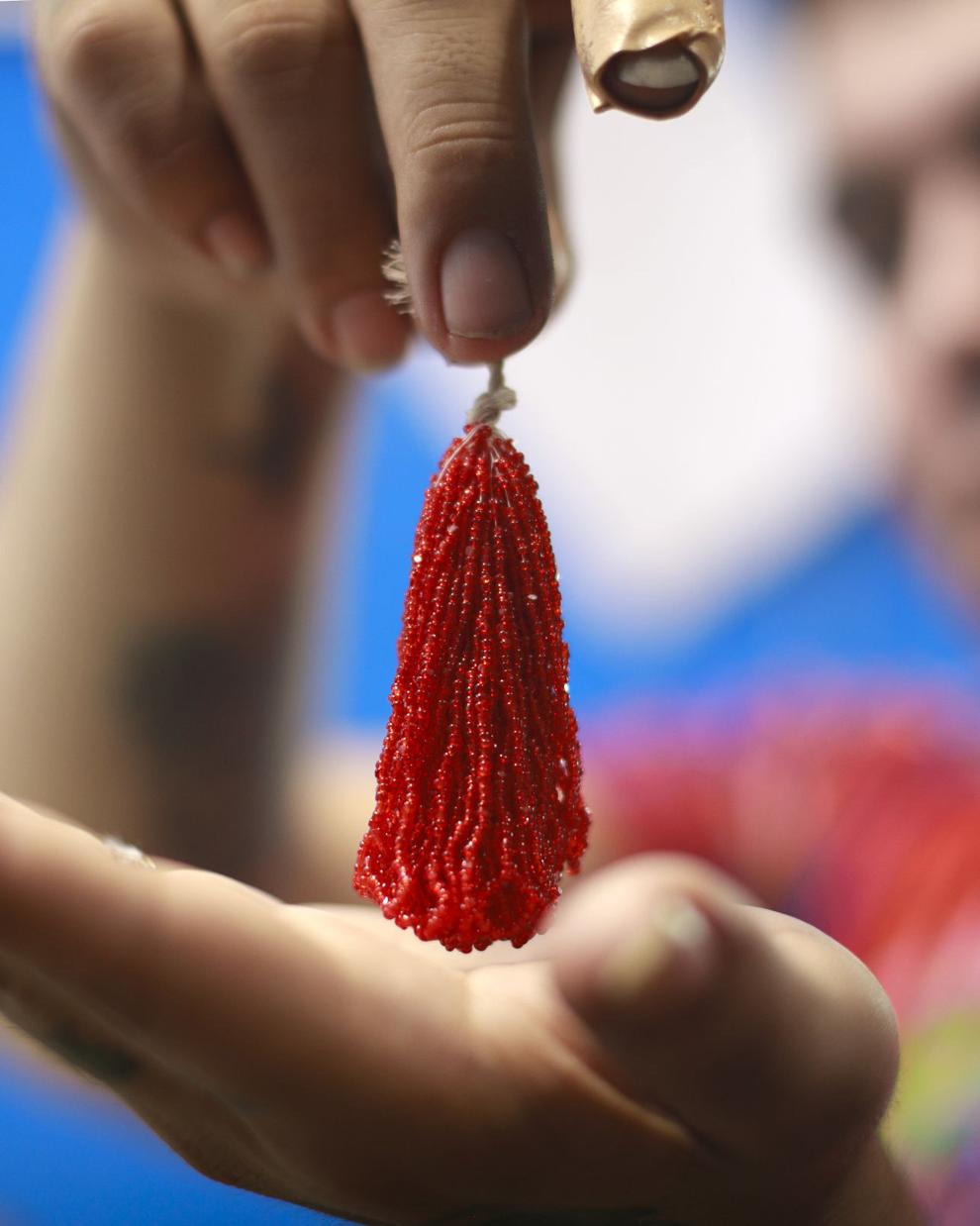 E.J. Not Afraid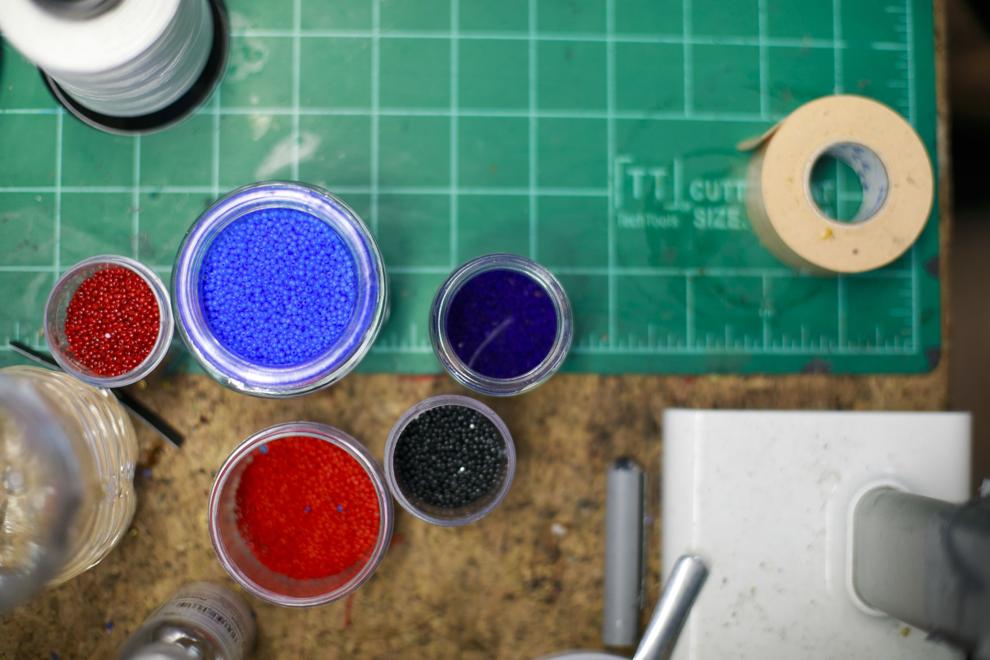 E.J. Not Afraid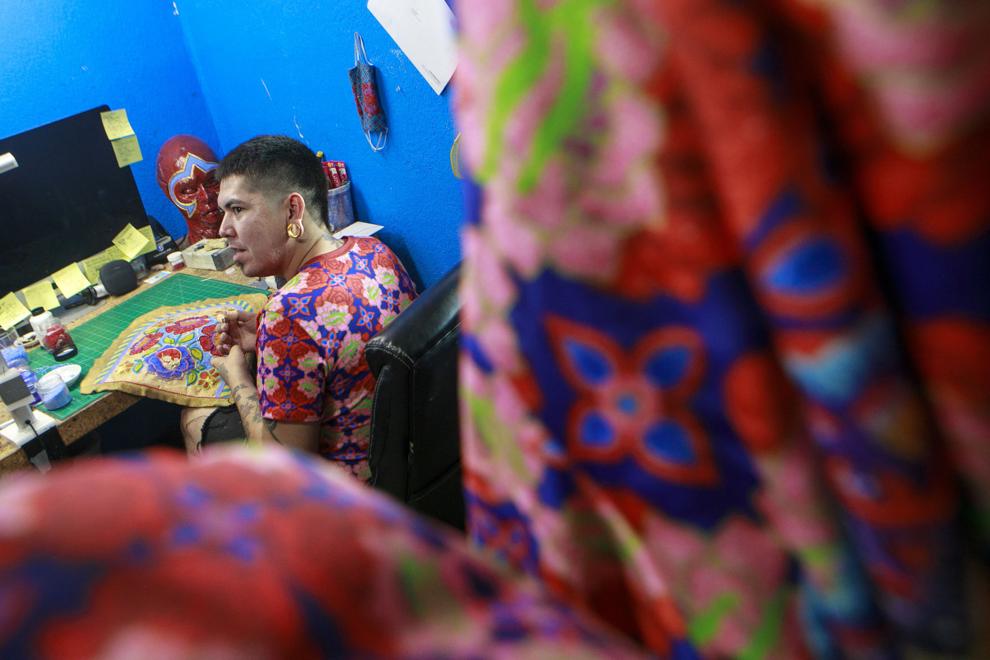 E.J. Not Afraid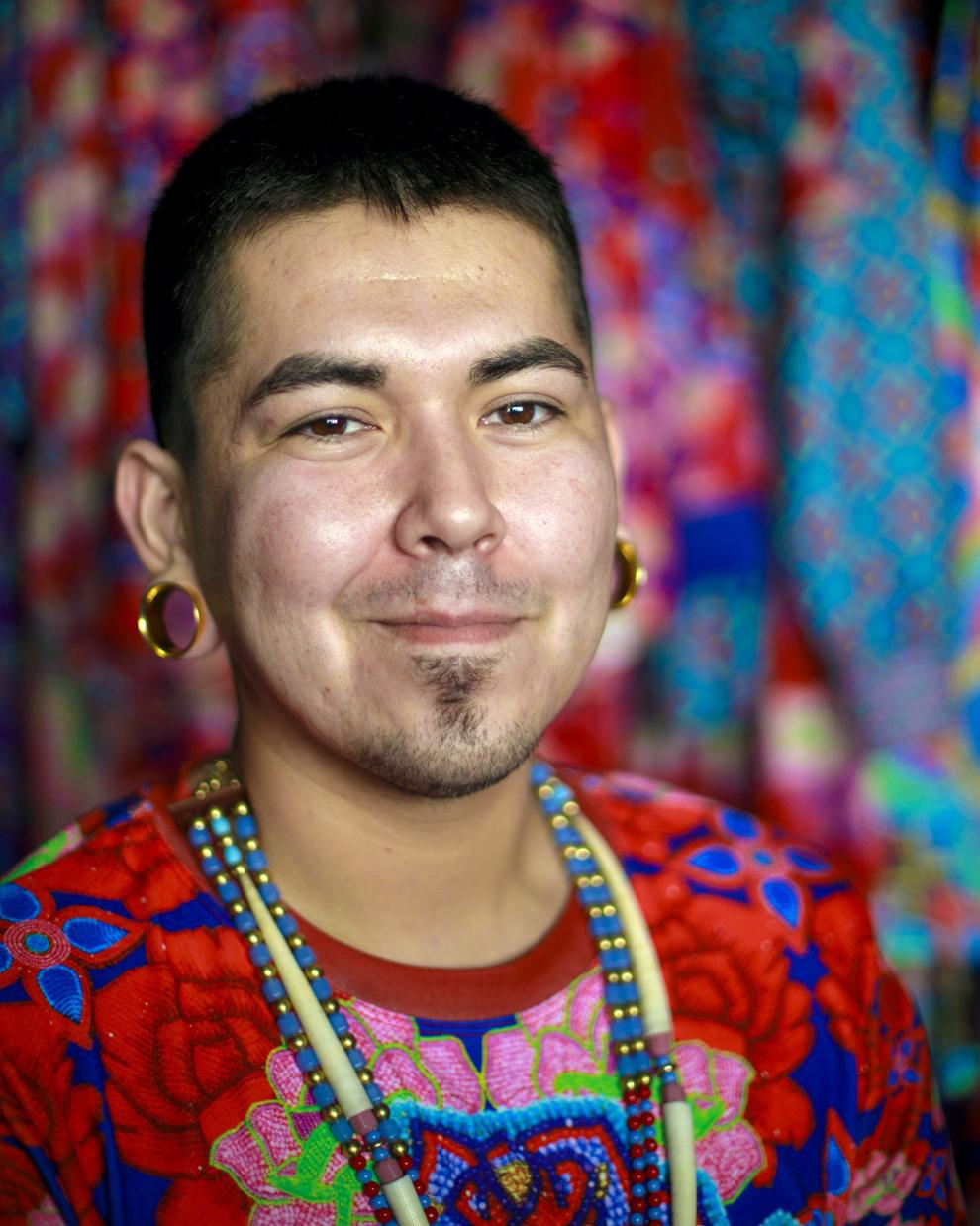 E.J. Not Afraid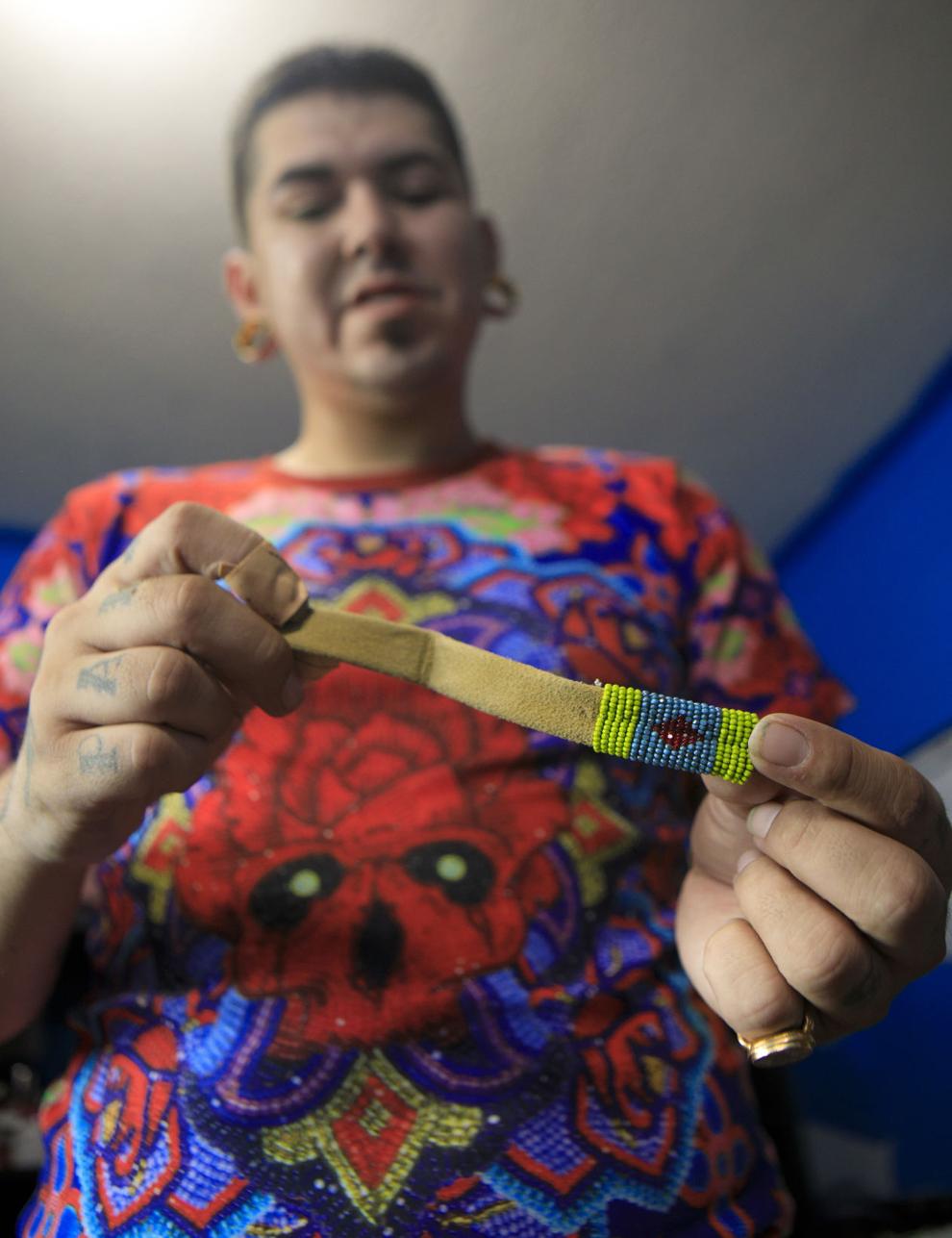 E.J. Not Afraid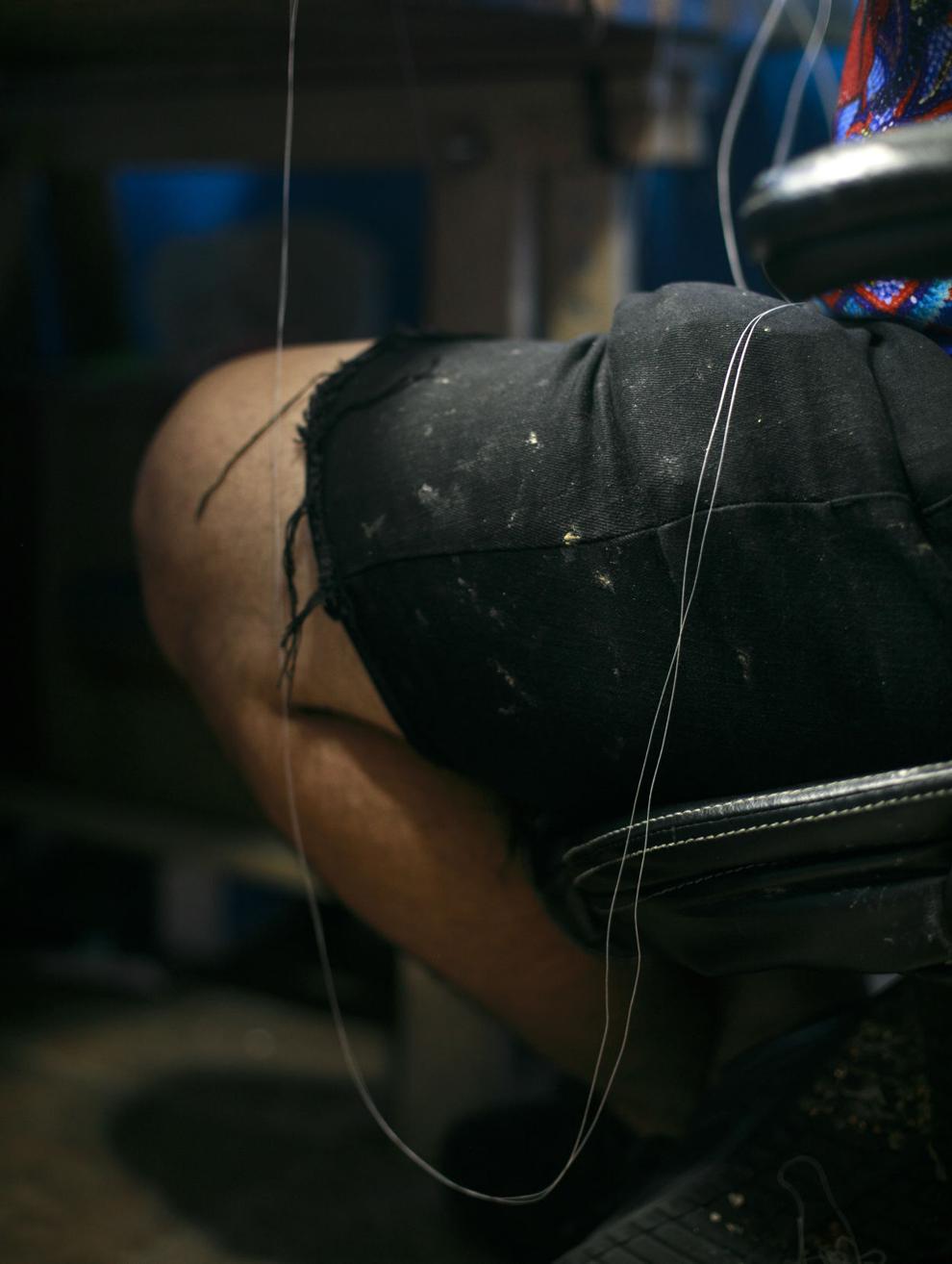 E.J. Not Afraid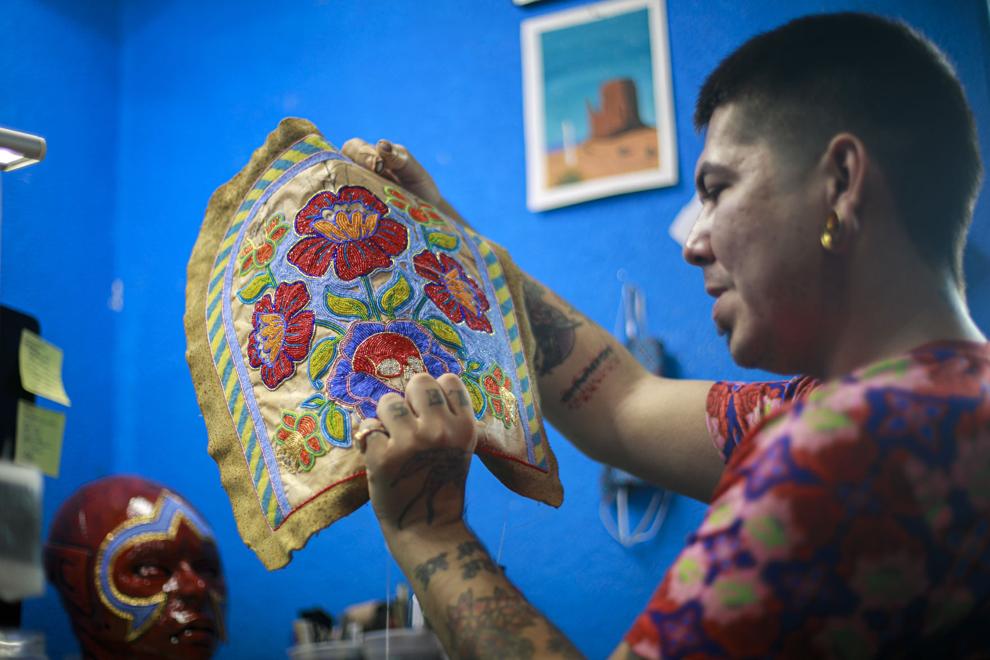 E.J. Not Afraid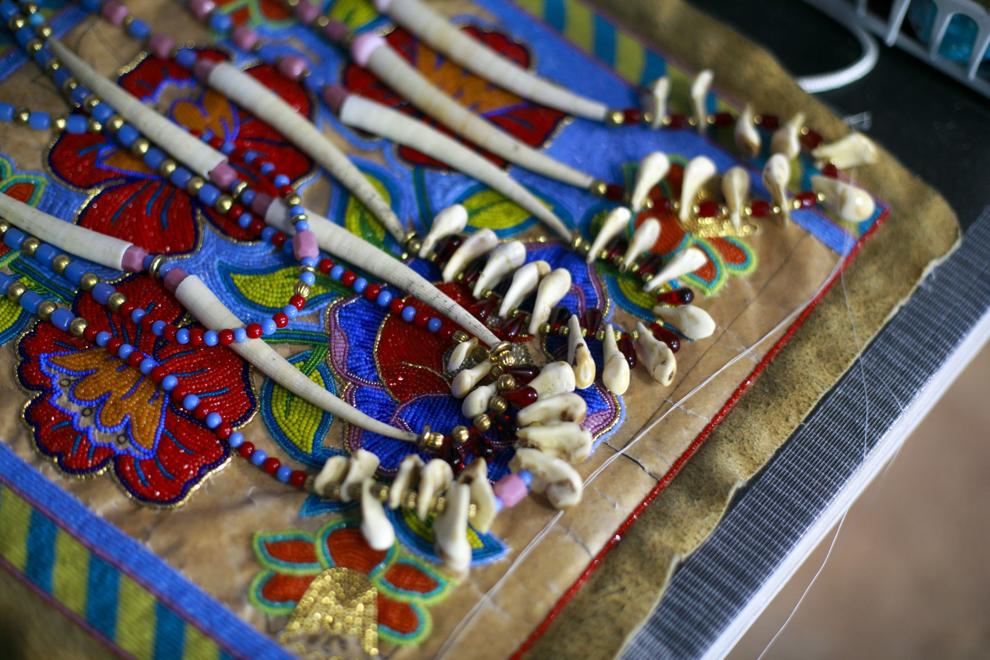 E.J. Not Afraid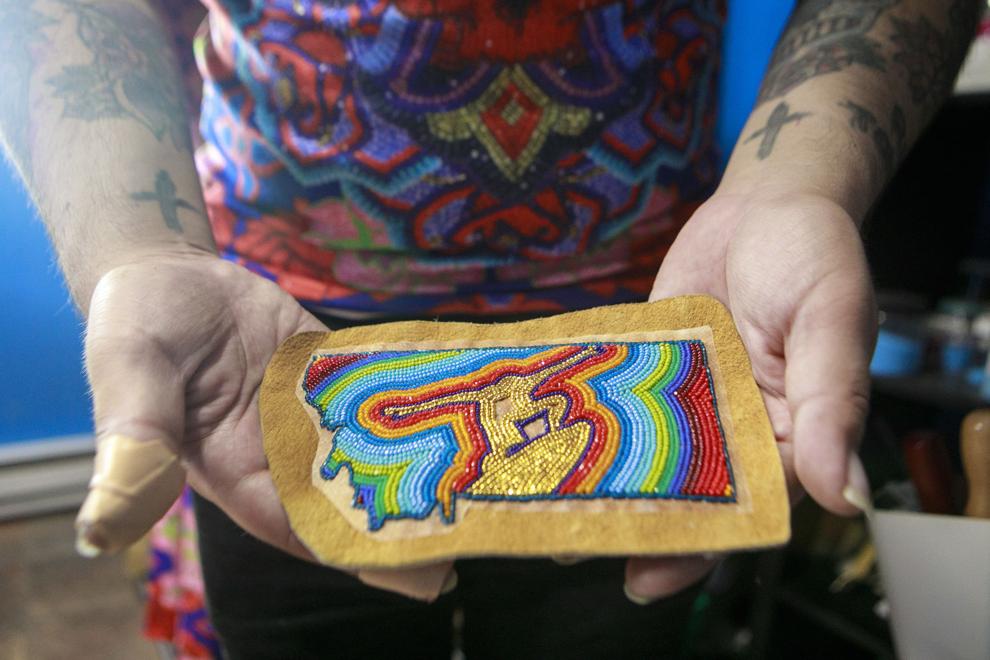 E.J. Not Afraid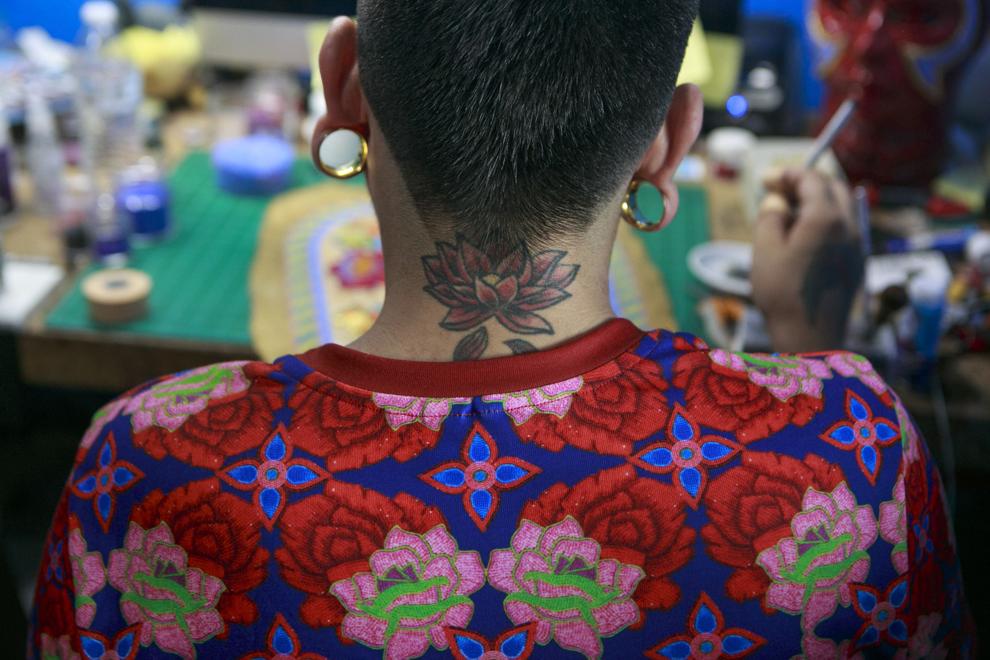 E.J. Not Afraid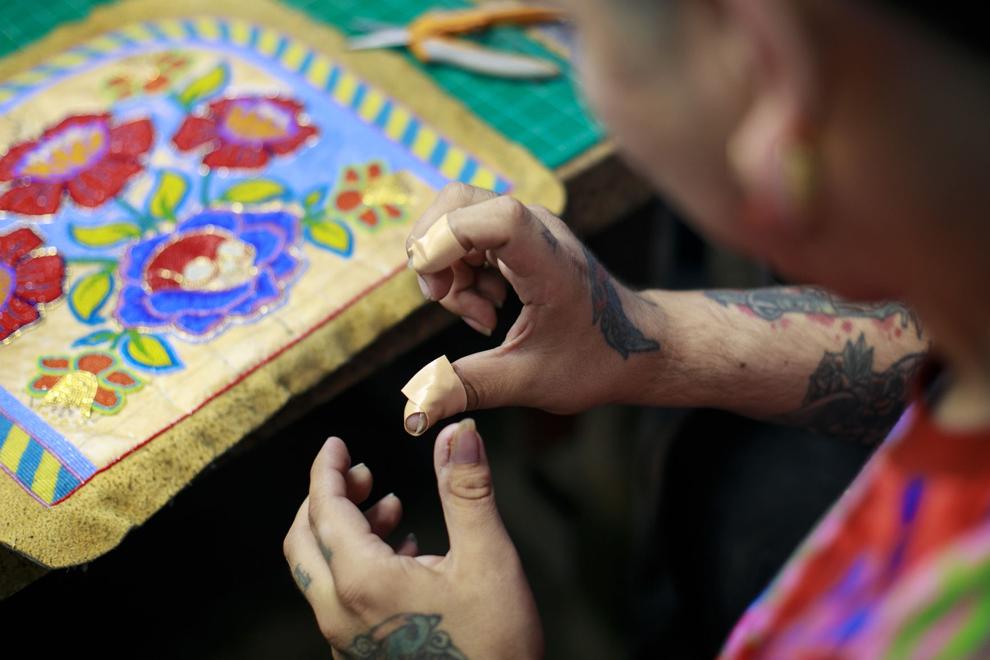 E.J. Not Afraid